Is CBD Legal Now In All 50 States?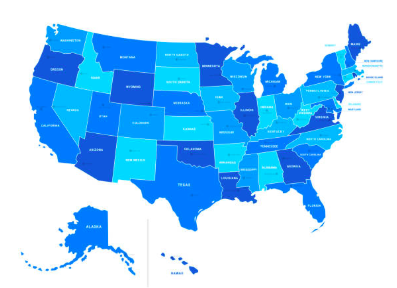 The 2014 Farm Bill was passed into law in December of 2018, and by doing so, hemp was legalized federally (1). However, even though it is federally legal, there are a few states which have yet to jump on board the CBD train.  Currently, those are: Idaho, South Dakota, West Virginia, Nebraska, Kansas, and Indiana (2).  Please note, recently Idaho has allowed the sale and purchase of CBD, but only if the product contains ZERO THC.
The government classifies hemp as any plant of the cannabis family containing less than 0.3% THC. This is why you'll find most CBD products contain CBD from industrial hemp, not marijuana. Since marijuana has a higher concentration of THC, there are too many steps required to extract the THC and just get CBD and all the while stay in the legal limits.
Industrial hemp plants have a high amount of CBD and naturally contain low amounts of THC, making them the most efficient plant for CBD processing. So, to make it simple; if the CBD is made from hemp, more than likely it's legal. If it's made from marijuana, you'll need to check the specifics of your state.
These following states have very explicit laws on what retailers can sell and where they can get their products, but are considered the most lenient states:
Alaska, Colorado, Illinois, Indiana, Kentucky, Maryland, Missouri, New York, North Carolina, Oregon, Rhode Island, South Carolina, Tennessee, Utah, Vermont, and Wisconsin.
These states have what is called a "Farm Bill-Compliant agricultural pilot program" that is very clearly exempted from the definition of marijuana:
District of Columbia, Hawaii Kansas, Montana, New Mexico, North Dakota, and Oklahoma.
These states prohibit the retail sale of industrial hemp-derived CBD products but have exemptions in the law for hemp-derived CBD products, which are legal.
Arkansas, Delaware, Florida, Georgia, Idaho, Iowa, Louisiana, Maine, Massachusetts, Minnesota, Mississippi, New Hampshire, New Jersey, Pennsylvania, Texas, Virginia, and Washington.
These states have no real prohibitions against the sale of industrial hemp-derived CBD products:
Alabama, Arizona, California, Connecticut, Michigan, Nebraska, Nevada, Ohio, South Dakota, West Virginia, and Wyoming.
Please check your state and cities restrictions and law very carefully and only purchase third party tested CBD products.
We at Enhanced Health Products strive to provide our customers with high quality, third party tested CBD.  All of our products contain less than 0.3% of THC. Our pure isolate CBD products contain ZERO THC. View our website to find your favorite CBD product!
SOURCES
(1) https://www.washingtonpost.com/business/2018/12/11/congresss-billion-farm-bill-is-out-heres-whats-it/
(2) https://www.cbdschool.com/cbd-laws-by-state-2018/
This website contains general information about medical conditions and treatments. The information is not advice, and should not be treated as such.
The information in this article is intended for informational purposes only and not intended to diagnosis, cure, or treat any healthcare issue. 
Our products have not been approved by the FDA and should not be considered for use as a nutritional supplement.
Please consult your doctor or other appropriate medical professional before adding CBD or any of our products to your routine.